My Custom Six Week Program (Two Weeks In)
One of my favorite jokes to make over the last year and a half was that "they warned you about the Freshman 15, but they had no way to prepare you for the COVID 19."
Horrible, I know. But there's a reason I'm not a stand-up comedian.
Hi, it's Ashlyn, the blog writer for Weighting for Warriors. I've had a ~tense~ relationship with fitness in the past but working for Samantha and Will has given me the opportunity to develop a better relationship with fitness.
Anyways, throughout the pandemic, like so many others, I was so stressed out that my physical well-being got pushed to the back burner. And then I moved to a city that specializes in spicy fried chicken. Truthfully, I let myself go a bit, and that's fine because my body got me through a pandemic. It deserved mac and cheese.
But everyone reaches their breaking point where they realize they're unhappy enough with the way they look to do something about it and that their current way of living isn't sustainable for their health.
I hit mine about three weeks ago. I reached out to Samantha and told her I wanted to commit to a six week program. We discussed my goals, the areas I wanted to target, and how much time I wanted to spend in the gym. She was honest with me about what my commitment would need to be if I wanted to hit my goals. I told her I was ready. Within a few days, I had a custom program tailored to my needs.
Now, it's only been two weeks, so I'm not gonna be like "I've already lost ten pounds, it's a miracle!!" Because of my eating disorder history, I can't even step on a scale to track my weight. Plus, my primary goals are to get stronger and feel better about myself, and they haven't invented a scale that measures those kinds of things yet.
But even in the last two weeks I've already noticed a few little changes:
1. I'm Sore, Like, All the Time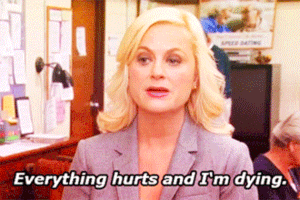 Not a day has passed since I started my program that at least one part of my body didn't hurt. And most of the time, it's a majority of my body.
But being sore means that something is working and I'm pushing myself hard enough to grow.
I wear my sore muscles like a badge of honor.
2. I Look Forward to Protein shakes
This really threw me for a loop because all of the protein powders I've had in the past have been chalky and meh.
But I ordered a tub of PEScience's Cake Pop Protein Powder, and that stuff tastes like a real milkshake. Now my reward to myself for working out is a protein shake. Go figure.
3. I Already Feel More Confident
It's probably the fact that I'm following through on staying active but dedicating an hour to myself each day makes me feel proud of myself and the steps I'm taking. Even though my body hasn't shown any changes yet, my brain feels healthier already.
You can do all the research you want about how exercising can help mental health but putting it into practice really is incredible. I'm making better choices for eating, I feel prouder of the work I do outside the gym, and I don't feel the need to hide under baggy clothes.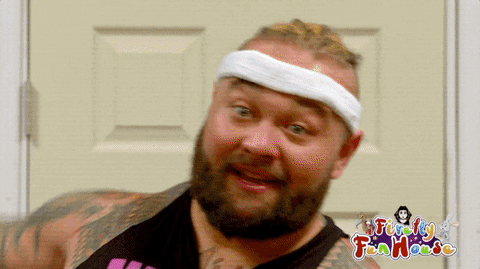 And if this is only a third of the way into the program, I can't wait to see how I feel after week 6.
I'm usually more motivated to work out in a group setting and I sometimes have a hard time motivating myself, especially when I want to go to the gym and don't know what I'm gonna do when I get there. The program already has a daily plan ready for me so I don't have to think twice about what I'm working on that day. And Samantha has been so incredibly supportive, and she holds me accountable.
Since I know she's anticipating a text from me about how the workout went, I know I have to get my butt in the gym. This keeps me from letting her down, but more importantly: it keeps me from letting myself down.
My workouts are listed in an easily accessible google spreadsheet, and I keep notes on my phone to track the weight I'm lifting so I can track my abilities as my strength increases. And even though she's in another state, Samantha continues to be my biggest cheerleader every day.
So, I guess we'll check back in in a month, right?
If you want a custom program tailored to you and your goals, reach out to Samantha to chat about what you're looking for.
What can you accomplish in six weeks?
Sources Used:
My Pain